Klask
Sweden is an interesting place. For example, they made this game—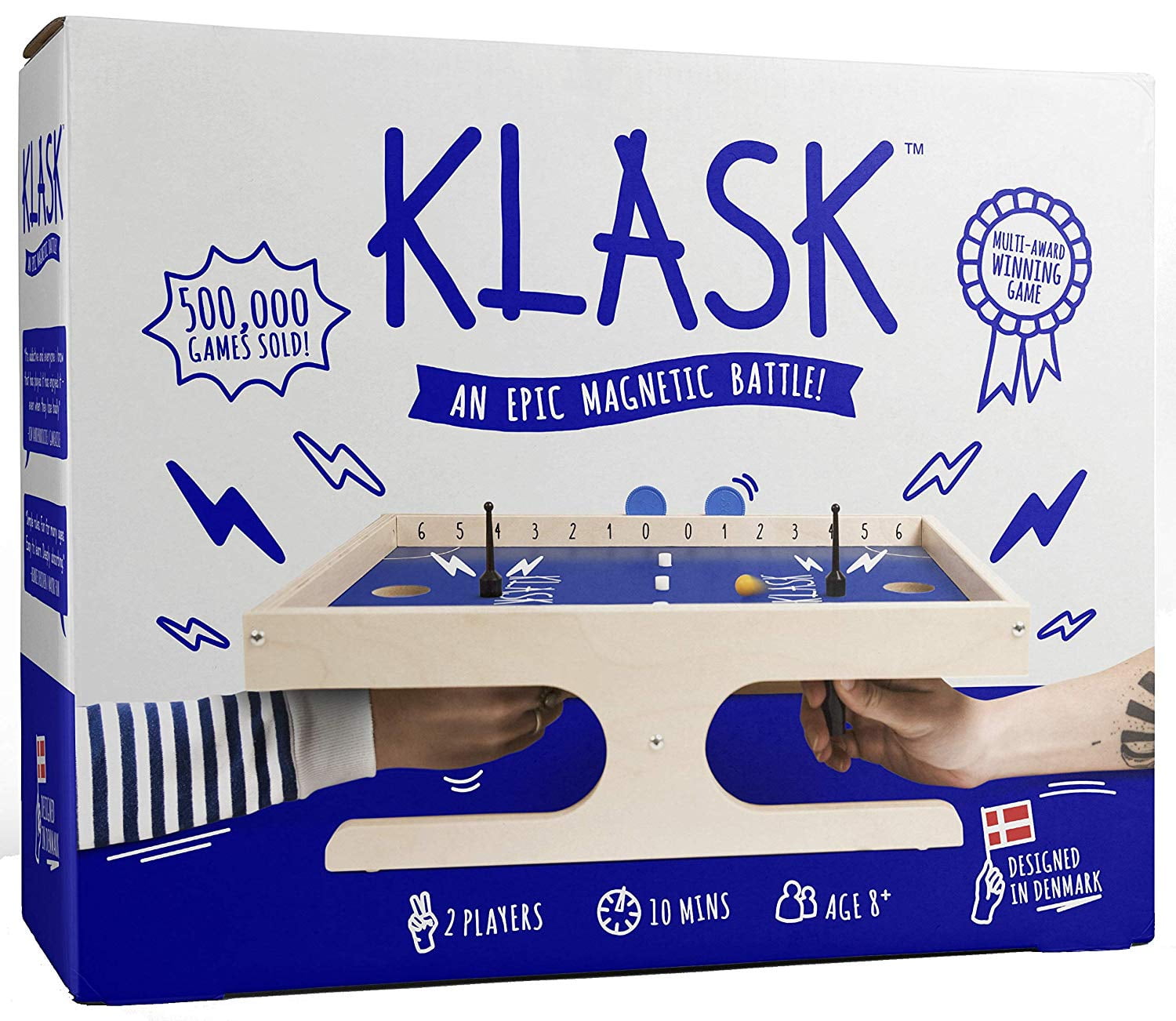 —which is advertised as being playable anywhere, with a picture of two guys standing in an icy lake playing it as proof. They also have what I can only assume is an earlier design of the box, which looks like this: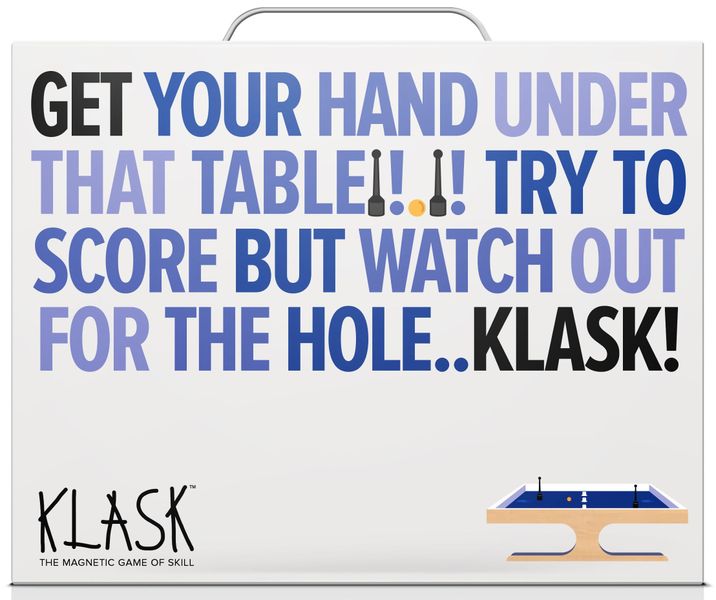 ...what? Is this a goofy translation or a sales pitch that masterfully sounds just dirty enough to get people interested in it before they have any idea what it is?
Underlying this conceptual filth is a game that looks like air hockey with radio antennas. Klask is extremely simple in design; you hold a metal piece that connects magnetically to your antenna on the top side of the board, sliding the antenna into a yellow ball so it goes in your opponent's goal and not your own. The magnets are very strong, and the design of the pieces is such that if you lose connection with your antenna, it's quite likely to snap right back up as long as you can get the bottom half of your magnet near it.
Obviously it's much cheaper and easier to play than air hockey, but by the nature of physics it's not quite as smooth, and "it's almost as good as air hockey" isn't going to sell many games. So, they added a few more twists.
If your antenna gets knocked down and you can't pick it up (e.g. it rolls on to the other half of the table), your opponent gets a point.
If your antenna falls into your goal so that you can't maneuver it out, your opponent gets a point.
There are three small, white, magnetic pieces that start in the middle of the board. If two of them attach to your antenna, your opponent gets a point.
The effect of these rules is to take a game based on something notorious for being played just at the edge of control and give the players more strategic reasons to stay on the edge of control. If you maneuver the ball carefully around your side of the table, it's easy for your opponent to see what you're doing, but if you get too crazy you're liable to hand your opponent free points. And if you have trouble aiming the ball at the relatively small goal, you can fairly easily knock the ball into a white piece and then (hopefully) into your opponent's antenna. It's not at all uncommon, in fact, for a game to end (when one person reaches six points) without an actual goal being scored.
It's very difficult to not have fun playing Klask. This isn't a board game you sit down with during a quiet night at home; it is a perfect game for competitive couples, but it feels more like something you keep on a side table for when friends come over, so people can rotate in and out of the game. The only thing to be cautious about is that kids absolutely will love playing this, but the pieces are quite small and relatively easy to lose. If you can keep that from being a problem, it's a really good pickup.
Score: A 6-1 victory over the competition.